Today we're unveiling a new page on Spread Firefox: the switch page
If you're passionate about Firefox and want to tell others about it, this is the page for you. It has lots of information and tools for a switch campaign of your own:
New flier
You'll find a brand new flier with the top reasons to switch. You can print it and post it around your school or office. There's even a personalized version so people can contact you if they have more questions about Firefox or need help.
Quick shout-outs
These links let you easily post a switch tweet or share your passion for Firefox on Facebook.
The page provides an email template you can use to recommend Firefox to your friends.OD
Spread the word about Firefox by displaying a badge on your site or blog. You'll even earn points for each download.
The page of course points to its companion, firefox.com/switch, which provides more info to users who are not currently on Firefox about why and how to switch.
And remember, if you're joining the switch campaign, we'd love for you to share your stories with the rest of the community! It's all happening on the switch stories forum.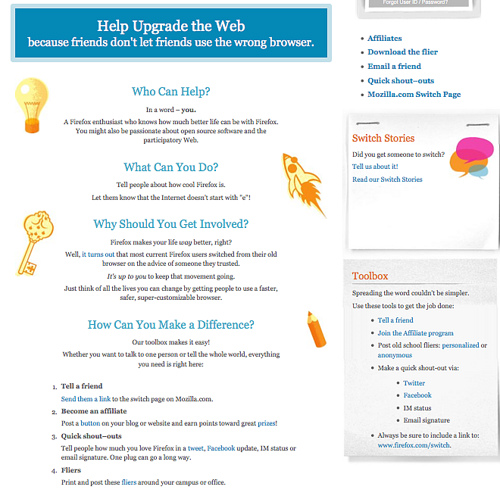 Many thanks to Alex Buchanan, William Reynolds, Jay Patel, and Laura Mesa who helped make the page a reality!